The Late Show Half Time Show with Pepsi Max
Publish Date

Thursday, 16 December 2021, 3:05PM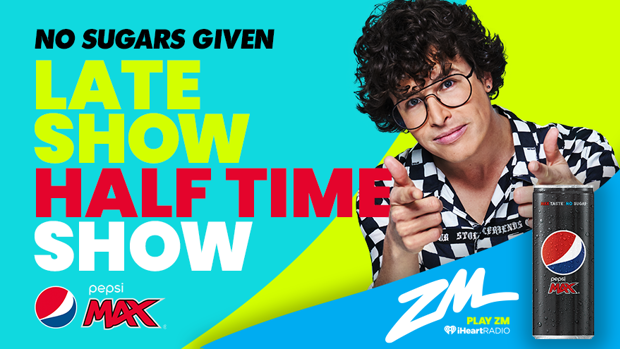 Go all in with Pepsi Max and the ZM Late Show Half Time Show! 
Cam Mansel is putting the spotlight on some hot new up and coming artists who embody the No Sugars Given lifestyle. 
Authentic... passionate... and dancing to the beat of their own drum! 
Follow @ZMLateShow to check out who Cam's guest will be each Thursday, and catch the exclusive live performances each week on-air Thursday's at 8.30pm, or on social at the ZM Facebook page to win.
The Late Show Half Time Show – brought to you by Pepsi Max.
Enjoy max taste with absolutely no sugar. Pepsi Max. No Sugars Given. 
Check out Cam's final interview with contemporary New Zealand artist here:
Check out Cam's full interview with Maddy Barnett, incredible NZ dancer here:
Check out Cam's full interview with Chris Bates, and the performance of his song 'Voicemail' here:
Check out Cam's full interview with Edna Swart, founder and director of ed&i body here:
Check out Cam's full interview with Thomston, and the performance of his new single 'April' here: