Our top ideas to keep you sane during Lockdown
Publish Date

Friday, 20 August 2021, 11:48AM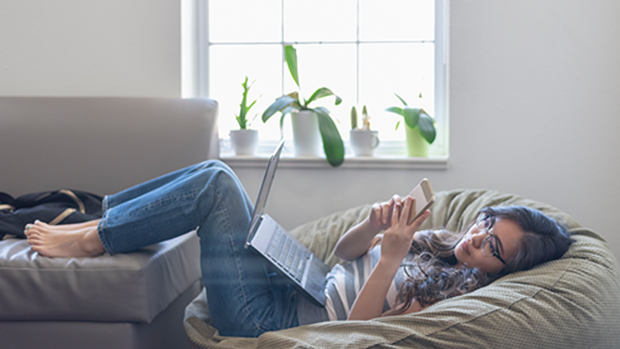 Okay it's lockdown take three, or is it four? Whatever it is, we'll be inside for a while so we've come up with a little list of things you can do while you're staying the f*** inside. Because staying inside really does save lives!
Binge shows:
Whether it's Netflix, TVNZ OnDemand, Lightbox, Neon, Disney+ catching up on some TV is the perfect way to pass the time and also see that show EVERYONE is talking about.
Love Island Season 7 - If you haven't already, you probably need to watch this series, so may as well when you've got nowhere to be. Plus, you know you really want to be involved in that kitchen chat when we eventually go back to work.
Too Hot To Handle Season 2 - Season two of THTH is here, and let's face it we LOVE trashy TV, and this is right up there. It even has a Kiwi on the cast!
I Am Not Okay With This - If you're a fan of Stranger Things and End of The F***ing World, then watching this show will combine the two and have you hooked!
Mean Girls - Everyone's fave movie is finally on Netflix, so why not play a game of 'how many quotes can I remember' to pass the time?
Mind Hunter- This one isn't super new, but if you're a crime drama fan, this is the perfect time to watch both seasons.
Gossip Girl- with the reunion on the horizon, what a better time to binge all six seasons of drama, fashion and obviously, gossip!?
Kath and Kim - If you're looking for a laugh, there's only one place to go. And with the full seasons on Netflix, why not?
Listen to Podcasts:
Stuff You Should Know- Take this time to learn something new with this poddy. Each episode is around an hour-long, so you won't run out of episodes!
Dying for Sex- When host Nikki Boyer's best friend Molly is diagnosed with Stage IV breast cancer, she decides to do something bold. She leaves an unhappy marriage and embarks on a series of sexual adventures to feel alive.
Fletch, Vaughan & Megan Podcast - They're New Zealand's best, and for good reason! The chat is out the gate, and with the daily podcast you don't have to wake up at sparrow's fart to enjoy to it. 
ZM's Bree and Clint Podcast - Catch up with our ZM Drive Show, where no two days are the same. We can personally vouch for these guys, and if you aren't left in stitches we'll eat our hat!
My Favorite Murder- If you love true-crime, then this poddy is for you. Karen Kilgariff and Georgia Hardstark tell each other their favorite tales of murder and hear hometown crime stories from friends and fans.
Call or Facetime friends
While you may not be able to socialise normally, picking up the phone and seeing a friend via the internet is the best way to keep yourself entertained and catch up with friends. Why not even start a daily workout class with your usual gym buddy? 
Read a book
We all live busy lives, and sometimes you start a book, never to finish it. Now's the time to catch up on some reading and below we've recommended some books we're loving at the moment! Plus, reading is 'Chic' if you haven't heard.
A Man Called Ove by Fredrik Backman 
A grumpy yet loveable man finds his solitary world turned on its head when a boisterous young family moves in next door.
Eleanor Oliphant is Completely Fine by Gail Honeyman 
29-year-old Eleanor Oliphant, a social misfit with a traumatic past who becomes enamoured of a singer, whom she believes she is destined to be with.
The Wife Between Us by Greer Hendricks 
About a jealous wife, obsessed with her replacement. It's about a younger woman set to marry the man she loves. The first wife seems like a disaster; her replacement is the perfect woman. You will assume you know the motives, the history, the anatomy of the relationships.
The Tattooist of Auschwitz by Heather Morris 
Lale Sokolov is well-dressed, a charmer, a ladies' man. He is also a Jew. On the first transport of men from Slovakia to Auschwitz in 1942, Lale immediately stands out to his fellow prisoners.
A Women is No Man by Etaf Rum
Etaf Rum tells the story of three generations of Palestinian-American women struggling to express their individual desires within the confines of their Arab culture in the wake of shocking intimate violence in their community—a story of culture and honor, secrets and betrayals, love and violence.
Everything I know about Love by Dolly Alderton
The wildly funny, occasionally heartbreaking internationally bestselling memoir about growing up, growing older, and learning to navigate friendships, jobs, loss, and love along the ride.
And don't forget to keep listening to ZM on the iHeartRadio app or the old-fashioned radio. We'll make sure our chat is up to scratch, and the music is extra good! Most importantly, STAY INSIDE TEAM! 
Take your Radio, Podcasts and Music with you