Fletch, Vaughan and Megan's favourite moments of 2020
Publish Date

Tuesday, 22 December 2020, 10:29AM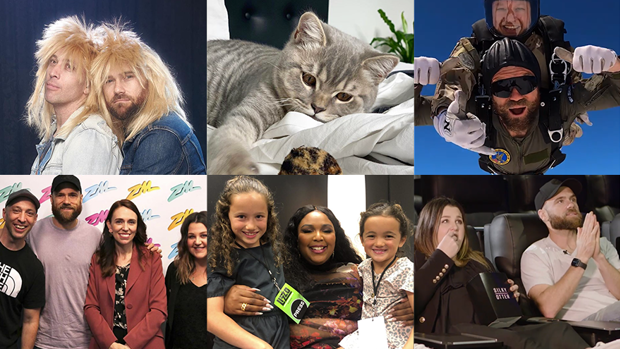 With the worst year of our lifetimes coming to an end, we thought why not look back on the more positive moments of 2020.
It turns out there's one for every month!
January 2020: Indie and August meet Lizzo
It's hard to believe but Lizzo was actually in New Zealand this year, and we're so glad she was because we had some very shy, but excited fans who wanted to meet her. Vaughan's Daughters, Indie and August.
February 2020: Vaughan's Birthday
What do you get the guy who has everything? You make him cry. 
March 2020: Megan's Safe-Zone Speech
When the conversation about eliminating 'safe zones' around abortion clinics was rife in the media, Megan shared her thoughts. 
April 2020: Plate Smashing
Peak Covid-19 Lockdown hit us hard, and with no one in the office to keep us accountable, things (Vaughan) got a little out of hand. 
May 2020: Major Murray Fluffington
Fletch welcomed a little baby cat into his life called Major Murray Fluffington.
June 2020: Fletch's Birthday
Fletch isn't exactly known for his empathy, so as a surprise we opened up the Fletch Complaint Hotline and got way more than we bargained for... 
July 2020: Megan's Birthday
With Megan moving into her new place, we thought it was obvious that she could do with some sexy new wall art of her two best friends. 
August 2020: Radio Pee Saga
Possibly the most gripping radio drama of all time, and it all went down in a Covid-19 Testing line. 
September 2020: Megan Announces her Pregnancy
The most wonderful news, after having more than her fair share of fertility issues, Megan announced that she was expecting her first child. 
October 2020: New Zealand Prime Minister Jacinda Ardern
Prime Minster Jacinda Ardern was Re-Elected in a Landslide victory!
November 2020: Skydiving with the NZ AirForce
We were offered the opportunity of a lifetime to Tandem Jump out of an AirForce plane, but with Megan Pregnant, Executive Producer Anna stepped up to the plate. 
December 2020: Megan's Last Show
As a special surprise for Megan before she goes on Maternity leave, we compiled some messages from famous Kiwi Mamas, as well as the most important Mama, Megan's Mama, Rae Rae.
Here's to the good moments of 2020!
Take your Radio, Podcasts and Music with you