What's the best designer rental company?
Publish Date

Monday, 6 August 2018, 9:18AM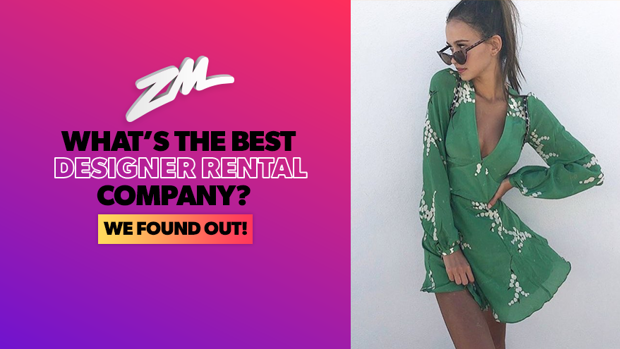 Web girl Trin here!
I love me any occasion to get glammed up. What I don't love is the cost of the occasions, especially if you end up dropping $100+ on a dress that you probably won't wear again. 
The solution that many younger females are turning to these days is to rent their outfit for a special occasion. 
You pay less than you would have to purchase said designer item (with many of the dresses costing $200+ to purchase) and enables you to be rocking the latest trends as new styles and dresses are released. 
The surge in popularity to rent has resulted in a surge of popularity to provide these rentals.
But you don't want your night to be ruined if your item doesn't arrive, so you need to rent with caution. 
I trialled out four popular rental companies, paying for the rentals myself, to find the best place to be spending your $$. 
Hired: Zimmermann - Anais Antique Floral Tie Dress
Cost: $80 rental - shipping included in cost, but no return postage bag
Discount: 10% off your first rental with code "FIRSTRENT"
Unfortunately, I actually had booked in to rent a different dress with Designer Wardrobe and on the Friday (the day before I needed my rental) I received a message from them informing me that the dress hadn't returned from the dry cleaners. 
They gave me the option to either choose anything else from their range that was still available to rent or to take a refund. Luckily, as I live in Auckland, I was able to pop into their Grafton store to try on other options, but I feel as many other girls would have been at a loss in the same situation. 
To their credit, the Zimmerman style I settled on, in the end, was $10 more than the first booking and they didn't charge me the difference, which I greatly appreciated. 
Hired: Bec & Bridge - The Decadent Dress
Cost: $60 rental + $10 shipping (included return courier bag) 
Treasure Boxx was no-stress and easy to rent from. I realised that I wanted to change the address I had originally given for the delivery of my rental and they were very accommodating when I emailed them to make the change. 
Their range isn't considerable, offering over just over 100 rentals, but they do have a good selection of cheaper $40-and-under rentals for those not wanting to drop too much $$. 
You can't filter the rentals via size, which is a bit annoying when trying to find a rental in a specific size. 
Hired: Realisation Par - The Kate Dress
Cost: $60 rental + $10 shipping (included return courier bag)
The service with Designer Hire is really exceptional. On this occasion, my dress arrived without a hitch, but I've hired with them previously and opted to pick up, as you can do so from their Epsom base in Auckland and found the communication during that process to be outstanding.  
Designer Hire also has a large range of long dresses, short dress and playsuits, with almost 200 options to choose from in sizes 6-12.
Hired: Zimmermann - Wrap Mini Dress
Cost: $89.00 - free shipping 
Discount: Sign up to mailing list to get $10 off first rental - they also send you a 20% off discount code if you tag them in a pic of yourself in the rental on Instagram. 
The Borrowed Collective was fantastic on communication and delivery. They included a nice little touch with a personalised note with my rental dress as they obviously have recorded that I've rented from them prior. 
Their range isn't so vast as others, with less than 100 items, however, they make up for this to some degree by offering a few styles in size 14. 
For a $15 fee you can also hire a backup dress if you're concerned that your pick won't fit/look right once it arrives - which I think would be great for those indecisive times!
THE TOP PICKS
Best for price: They were all very similar when it came to price, so no one, in particular, offers better value in this case. I would recommend following the companies on Instagram as they can quite often offer up discount codes! Be wary that some companies prices include the delivery price in the rental cost, whilst for others it's added in checkout. Some stores have the option of pick up, which will save you on the shipping cost. 
Best for range: Designer Wardrobe wins this by a landslide, with over 800 items to rent from and many of the popular styles and dresses coming in a range of sizes. They also offer more than dresses to rent from, with tops, bottoms and accessories all being in their rental range. They also have a few options for sizes 16 and 18.
Best for service: Designer Hire seemed personal with their communication and went above and beyond with ensuring my rental was received. 
Best overall: Designer Hire takes this one thanks to their personable service and considerable range.